OPERATING PRINCIPLE AND GENERAL SPECIFICATIONS

The devices are designed to produce hot air by automatically burning wood pellets.

These combustion chambers are ideal for renovating existing, inoperable fireplaces and upgrading from wood to pellets.

Also ideal for special new solutions, to answer the most varied interior design requirements.

Delivered pre-assembled and ready for use - simply attach to the flue and air intake.

All phases are controlled by the electronic controller's software, which guarantee's high efficiency and low emissions in total safety.

The hot air is delivered to the room via a front mounted grille and can also be sent to adjacent rooms via air ducts if so desired.

The device can be controlled with a remote control, and remote ignition devices can also be hooked up to it.
GENERAL OPERATIONAL SCHEME

For the scheme specific to your model, refer to the technical data sheet enclosed with the product.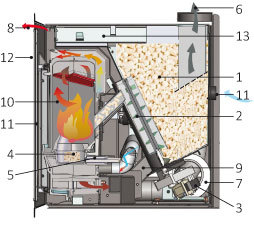 1 = pellet hopper with loading drawer (13)


2 = screw for conveying the pellets from the hopper to the combustion chamber


3 = screw gearmotor


4 = pellet combustion hearth


5 = electric heating element for igniting the pellet


6 = fumes outlet port for connection to flue


7 = hot air fan


8 = front grille for delivering the hot air to the room


9 = centrifugal fan for extracting the combustion fumes


10 = heavy duty cast iron combustion chamber


11 = combustion air intake port


12 = synoptic panel for controlling/monitoring the device's operation